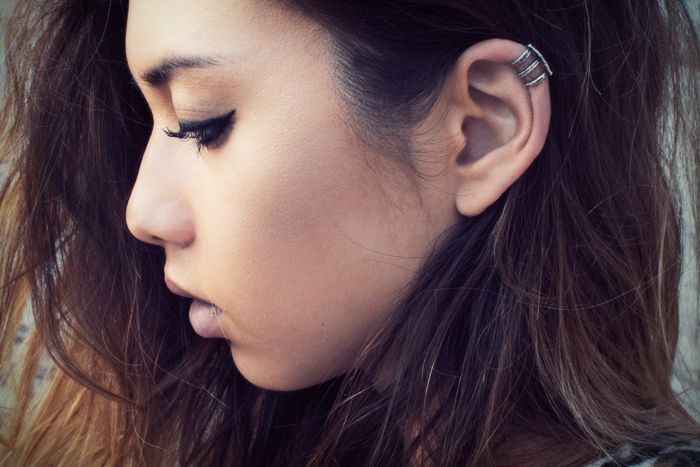 And you can purchase this ear cuff here
I have recently re-discovered ear accessories. I'm not talking about your standard earrings here, I'm talking ear armour! This year, a
rmour inspired jewellery is everywhere. Its now even on our ears.
I'm not going to pretend this is a brand new never-been-seen-before fashion trend because I can remember vividly buying false ear cuffs from Argos when I was about 8 or 9. Up until recently I would never have seen myself wearing anything of the sort ever again, but I'm so glad I kept the 4 silver ear cuffs from Argos for all this time! And after seeing beautiful images of ear cuffs being worn I decided to give the trend a go once more.....
Because of medical reasons it has always been a higher risk for myself than others to get piercings and/or tattoos - due to chance of infection. When I was younger this was a risk my mum obviously wasn't going to take, so when all my friends had their ears pierced and I couldn't it was very frustrating. That is how I learnt of all the various types of false ear jewellery.
Since then, from age 16 onwards I decided I'd take the risk - I had my helix pierced once which never really healed, I now have my tragus pierced and last April I got my first tattoo. Yes, rebel that I am ;)
Never did get my lobes pierced though - after a while the desire wore off and I've never been bothered to have them done. I quite like the fact they aren't pierced and I wouldn't have the patience to faff about with putting in new earrings for different occasions. Its hard enough to remember to put on rings/necklaces in the morning.
purchase these cuffs here
Also
bodyjewelleryshoponline.com
have a great and cheap selection of ear cuffs for non pierced ears. In fact I have just ordered myself this 3 ring silver ear cuff....
It's just £2.49!
Going off the ones I already have, they are super comfortable and you will easily forget your even wearing one (or two!) and they look fantastic. I'd say they look rather realistic but even if someone does ask if you really have your ear pierced, then I wouldn't mind telling them the secret.
What do you think of the ear cuff? Love it or loathe it, let me know :)